[edit this]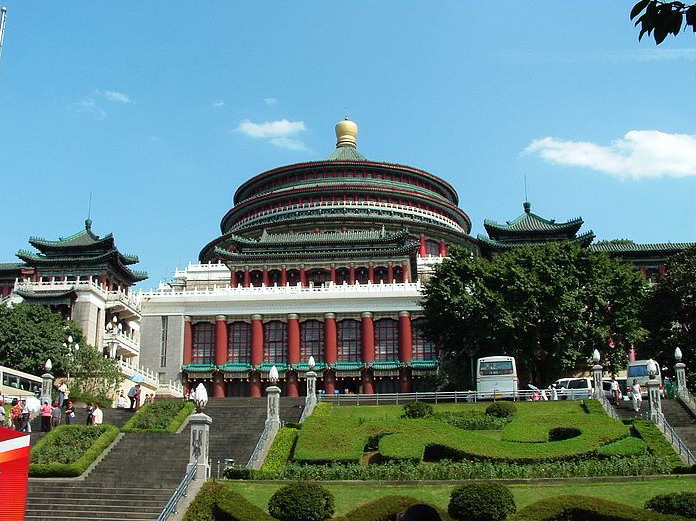 Photo By: ch
[Change Image]
Chongqing People's Grand Hall is one of the symbolic buildings in Chongqing, lies at Xuetianwan, Renmin Road, Yuzhong District. It is an archaized ethnic architectural complex built in 1951, remedied newly in 2006.
Resplendent and magnificent, the whole complex can be devided into four parts, namely the Great Auditorium, West Building, South Building and North Building. The buildings of the complex with well-proportioned height and width stand in symmetry due to the traditional mode of symmetric construction, matched with colonnades and two wings and a tower erecting behind.
Chongqing People's Grand Hall has been one of the important places for the city of Chongqing to host distinguished guests from home and abroad Sequentially, the CPC and state leaders such as Mao Zedong, Liu Shaoqi, Zhou Enlai, Zhu De, He Long, Chen Yi, Jiang Zemin, Li Peng, Zhu Rongji, Li Ruihuan, Wei Jianxing, Li Langqing and foreign friends such as the former US President Ford, the former British Prime Minister E.Heath, the former Australia Premier Scheel, the former UN General Secretary Waldherm, the former Singapore Premier Lee Kuanyew, the former Japanese Prime Minister Naxasone Yasuhiro and Kaifutosiki, the former King of Nepai Buendra, the Prime Minister of Portugal Antonio Guterres and the former Australian Prime Minister Hawke etc, are all guested here. The hall has also received a lot of government and non-government delegations from abroad.

Edit by: ch