[edit this]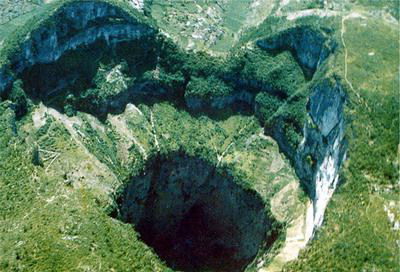 Photo By: ch
[Change Image]
Sky Crevice and Earth Canyon Scenic Zone lies about 70 kilometers south of Fengjie County, and at the V-shaped alluvion of the crossed Nine Curves River and Labyrinth River.
The Sky Crevice of Small Village, the largest one all over the world, takes the form of a gigantic karst filler. It deserves the name of "the First Crevice under the Sky" and is marked as one of the cave wonders in the world. Around the tunnel are precipices steep as being cut by axe and sword. Below the tunnel is an underground river whose water flows down from the canyon of Tianjin Gorge and is discharged through the Labyrinth Gorge, which is a quite wonderful phenomenon.
Belonging to the same system of karst as the Sky Crevice of Small Village with steep cliffs, the Earth Canyon of Tianjin Gorge is a typical scene of the Thread-like Sky. At the bottom of the canyon there is Water-Falling Cave where currents rush through after storm. A six-kilometer-long hidden cave is seated at the lower part of the scenic zone from the Sky Crevice to the Labyrinth Gorge. The famous sights here mainly include Jade Shuttle Waterfall, Plowshare Gulf Waterfall, Varying Mountain, Giant Elephant Exploring Springs, Stone Kwan-yin, Gate of Hell, Pass of the World and the Hell, Double Wind Cave, and so on.

Edit by: ch