[edit this]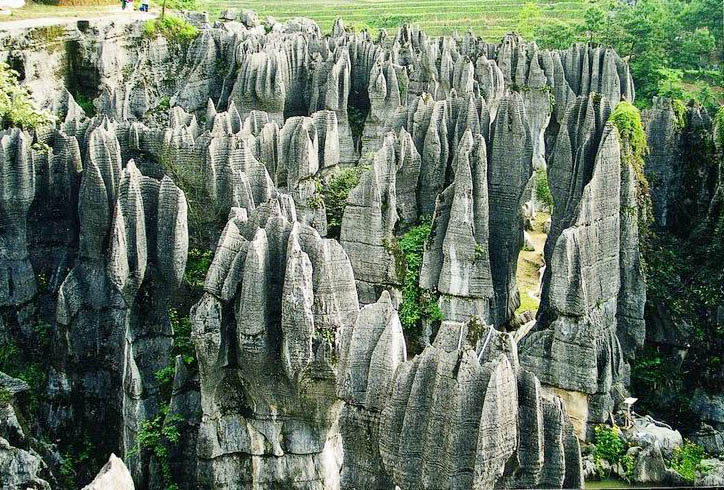 Photo By: ch
[Change Image]
Wansheng Stone Forest is the second largest stone forest and the most antique one in China, located at Nantian Township, Wansheng District, about 89 kilometers from Chongqing City.
Wansheng Stone Forest was formed about fourhundred and sixty-five million years to six hundred million years ago. With the reputation of "the Ancestor of Stone Forest", it was formed two hundred million years earlier than Lunan Stone Forest in Yunnan province. The touring values of the stone forest lie in the following aspects.
Wansheng Stone Forest covers an area of more than 10 square kilometers, classified into karst physiognomy, varies in the shapes of its stones that look like sword peak, drum, tower, mushroom and bud, espeically in forms of birds and beasts that bring the forest the name of "A Natural Stone Zoo".
The main attractions here are Tianmen Limestone Cave, Goddess Peak, Giant Fan Rock, Thread-like Sky, and so on. Tianmen Limestone Cave is the representative of typical scenery in China. In Tianmen Limestone Cave, there are more than 50 scenic spots such as Banners and Flags Greeting Guests, Fruit Mountains, Upside Down Lotus, Tianshan Snowfield. All forms of stalactites such as sheet, stalagmite, stone waterfall, stone flower, underground river, transparent branchiostomid appeared here. The whole limestone cave is as wonderful as dream. The Tianshan Snowfield, Sinicite of China, The Unicorn and The Seawter Level Line are called Four Wonders of Wansheng Stone forest.
It is a scenic spot for original customs of Miao Nationality. Wansheng Stone Forest belonged to the territory of ancient Yelang Country. Miao nationality, who are skilled in singing and dancing, have been living here generation after generation and the colorful original customs of Miao Nationality has endowed the stone forest with the characteristics of touring for folk customs.

Edit by: ch