[edit this]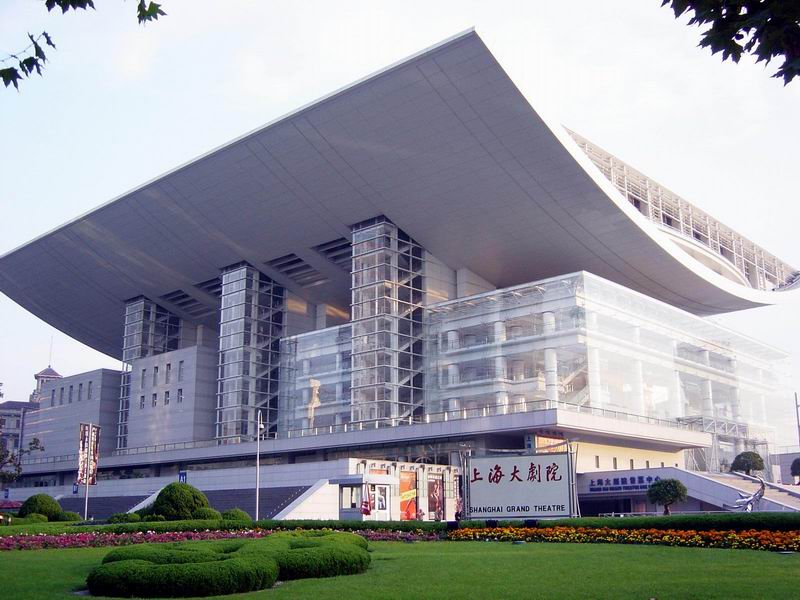 Photo By: ch
[Change Image]
Located at the northwest corner of People's Square, Huangpu District, Shanghai Grand Theater looks like a crystal palace made by musical notes.
It is 40m high with over 2,000 seats and a floor space of 70,000 square meters. Its structure adopts a simple, geometric design with a white arc-like roof bent to the sky. It has a classical open-air theater and a garden, which are like a cornucopia symbolizing Shanghai's wide bosom for accepting the world's culture and art. It comprises three theaters of big, medium and small sizes. With 1,800 seats, the lyric theatre is divided into the auditorium, the 2nd-floor, the 3rd-floor and six balconies. The drama theatre has 750 seats and the studio theatre has 300 seats. The biggest in Asia and the most advanced in the world, its stage consists of a forward, a back and two side stages.
Since its opening on August 27, 1998, the Shanghai Grand Theatre has successfully staged such shows and evenings as operas, musicals, ballets, symphonies, chamber music concerts, spoken drama and the Chinese operas. It also has a high reputation both at home and abroad as many high officials and VIPs, both domestic and international, gave the highest praises of the theatre for its perfect combination of art and architecture after they visited the theatre. Now it has become an important window of cultural exchange between China and the world and a bridge of artistic communication.

Edit by: ch