[edit this]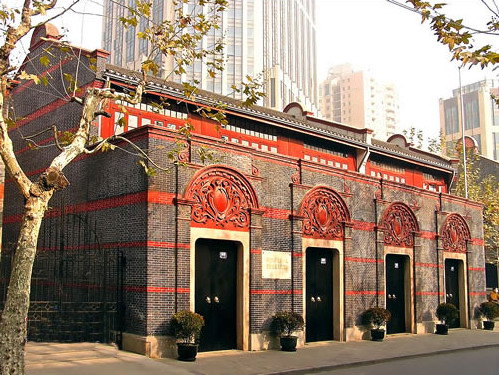 Photo By: ch
[Change Image]
The Site for the First Congress of the Chinese Communist Party is a multi-story building, situated at No.76 Xingye Road, Luwan District, constructed in 1920.
On July 23, 1921, the first national congress of the Chinese Communist Party was held here. Mao Zedong, Dong Biwu, Li Da, He Shuheng, Chen Tanqiu and Wang Jinmei, altogether 13 members, came to attend the meeting. The waiting room at the first floor was used for the meeting. There is a conference table in the middle of the waiting room, where they discussed party program and practical work for the future. During the meeting, owing to the interruption by spies from the French police, the meeting had to be resumed on a boat on the Nanhu Lake in Jiaxing Country, Zhejiang Province.
In 1999 the city government conducted reconstruction of the memorial hall at the site. The new memorial hall is 12 meters high with 2 stories at the front and 3 stories at the back. There is also an auxiliary display room for showing the historical and cultural relics about the early period of the Chinese Communist Party.

Edit by: ch