[edit this]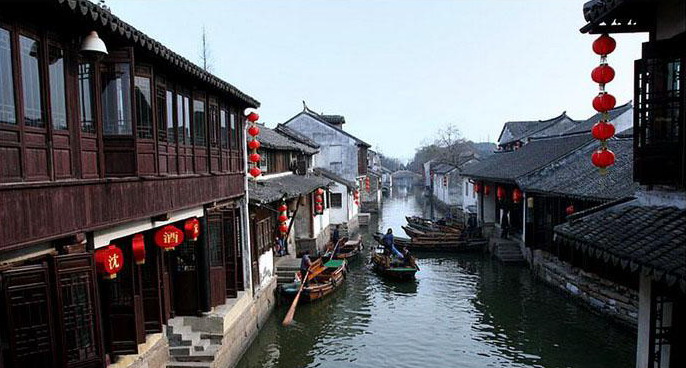 Photo By: ch
[Change Image]
Zhou Village is located at the southwest of Kunshan City, 38km from the urban area of Suzhou City. It is reputed as "the first watery region in China" with a history of over 900 years.
It was called "Zhenfengli" previously. Zhou Digong constructed his manor here in 1086, the first year of the Emperor's reign in the North Song Dynasty, hence the name of the village.
The town is surrounded by the Baixian Lake, Dianshan Lake, Nanhu Lake and many rivers. There are four main stream channels at the town, crisscrossing each other. Courtyards on banks of channels are painted white on their walls and roofed with black tiles. Waterside pavilions beside the rivers are richly ornamented. Zhenfeng and Fu'an Bridges are simple, unsophisticated but exquisite.
Zhou Village abounds in waterways, and boats are a must. The town features a typical waterscape of the regions south of the Yangtze River, with houses built along the rivers and streams. Thanks to these waterways, the town avoided the chaos caused by wars in the past dynasties, and its architectural layout from the Ming (1368-1644) and Qing (1644-1911) Dynasties has remained intact.
Zhou Village also has a rich cultural heritage. The Shuangqiao, Fu'an, and Zhenfeng bridges show the town's unique bridge culture. The house of the Zhang family, where a boat can enter through the front gate and sail past in the courtyard; the splendid residence of Shen Wansan, a wealthy man of the Ming Dynasty; the Milou Pavilion where the poet Liu Yazi chanted poetry while drinking wine; and the teahouse that San Mao, a writer from Taiwan, felt emotionally attached to all contribute to the cultural flavor of the town.
In 1998, Zhou Village was included in the supplementary list of World Cultural Heritages by UNESCO.

Edit by: ch