Guigu Kong Fu
[edit this]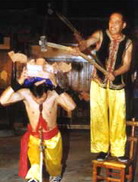 Photo By: Dorothy
[Change Image]
According to ancient stories, Guiguzi, the famous politician of Chu State in States War period, lived in Ghost Canyon. He specialized in uniting and breaking up strategies. Uniting strategy means six states united and fight against Qin State together in that period. Breaking up Strategy means six states deal with Qin State respective. The teacher of Kissinger, Secretary of State in USA, commended that Guiguzi must become historical hero in that time because of his wisdom, prediction of historical development and mastering of diplomatic skills (Kissinger's autobiography). "Guiguzi" is his famous work. People regarded him the God.
He researched the book of Ying in Guigu Cave of Mountain Tianmen and created new Kong Fu different from other factions in China. Local people named this "Guigu Kong Fu". In the past, Guigu Kong Fu had been used in practice. In recent years, Guigu Kong Fu appeared as folk entertainments. The men can perform prostrating on prong, laying on nails bed, beating ears, breaking bricks by head and so on.

Edit by: Dorothy
Building Culture
[edit this]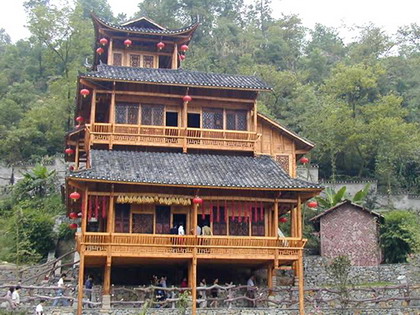 Photo By: Dorothy
[Change Image]
Tujia people built special DiaoJiao Buildings in mountainsides. With woodcarving on windows and traditional design, DiaoJiao Buildings are in harmony with environment. In general, DiaoJiao Building made up of main house, additional house and tower. Each wall of the house is supported by four columns. DiaoJiao Building has two stories. The suspending corridors around the second floor install wood baluster. With flying eaves and checker windows, the house is elegant. In the autumn, corn and chili bunches suspend in corridors.

Edit by: Dorothy
Culture
[edit this]
Zhangjiajie raises excellent people and contains various resources. The long history of many nations, original customs together with modern culture contribute to a colorful painting.
Zhangjiajie is a habitation for minority nationalities. During the long history, Han people, Tujia people, Miao people, Bai people together with the people of other nationalities co-create a unique culture.
Zhangjiajie, a fairyland gathering essence of the heaven, has brought up thousands of elites in the hundreds of years. Among them, there are He Long——the great Chinese proletarian revolutionary leader, one of the founders of PLA, one of the ten marshals in China; Xiang Dakun, the leader of a great peasant uprising; He Pengfei, an assistant commandant in the navy of PLA; Liu Mingdeng, a chief of Taiwan soldiers in Qing Dynasty; and Chen Nengkuan, the receiver of "Two Missiles & One Satellite Medals".
Due to the reform and opening-up for more than two decades, special culture, campus culture, community culture, traveling culture, and other modern cultures constitute the lively and colorful culture world of Zhangjiajie; while inheriting traditional advantages and creating some new features as well. Now the number of cultural entertainment places, including cinemas, singing-dancing halls, cultural clubs, parks reaches more than 1000. The city also enjoys 3 public libraries with 105,000 books, 5 regional TV stations and 5 broadcasting stations, which cover all the urban and rural areas. There are 1,599 schools of all levels with 251,100 students in all.
Zhangjiajie is named after the Zhangjiajie Scenic Area. In 1979 Zhangjiajiese found this rare forest in the world. In 1982, after the permission of the State Council, the State Planning Committee approved Zhangjiajie to be the first national forest park in China. In 1988, Dayong City where Zhangjiajie is located, jointly combined with Sangzhi where Mountain Tianzi lies and Cili where Suoxi Valley sits, became a city under the direct administration of provincial government. In 1992, Wulingyuan Nature Reserve, consisting of Zhangjiajie National Forest Park, Mountain Tianzi Reserve and Suoxi Valley Reserve, has been listed in the "World Natural Heritage" by UNESCO. In 1994, Dayong City was renamed as Zhangjiajie City under the permission of the State Council. Now, Zhangjiajie has basically become a large-scale, high-rank tourist resort where mountains, lakes, caves and historical culture and special customs are well blended in the area of 500 square kilometers. It has Zhangjiajie National Forest Park, Mountain Tianzi Reserve and Suoxi Valley Reserve as its core, and Maoyan River, Nine-Heaven Cave, Mountain Five-Thunder, and the Universal Light Temple as its satellite tourist resorts. So far, more than 20 scenic spots have been explored, and more than 30 tourist routes have been formed. The total traveling lane adds up to more than 500 km.

Edit by: Dorothy