Characteristics of Emei Sword
[edit this]
The characteristics of Emei Sword are: lively attaching skill, raising and drawing as a circle, turning over as lightning, going through cloud and circling, frightening the top and attacking the bottom, great variety of sword skill, piercing like fierce tiger, hacking and chopping like mountain, slipping, cutting, blocking and sweeping, with deficiency and excess, mainly being active, with skills as the basis, emphasizing being swift, win by acting cleverly.

Edit by: Dorothy
Characteristics of Emei Wushu
[edit this]
Emei School has advantages of both the Buddhism and the Taoism, it not only incorporated the dynamic qigong of Taoism but also has the basis of meditation practice of Buddhism, it's an unique practicing means combining the dynamic qigong and static qigong. This practicing means, and other various kinds of boxing skills, appliance skills and kick-boxing skills constituted the Emei Wushu system. In the theory of Emei School, both the dynamic qigong and the static qigong are emphasized. The dynamic qigong of the famous "Emei 12-post Skills" consists of 12 major types:"sky, earth, zhi, heart, dragon, crane, wind, cloud, large, small, deep, dark". The static qigong consists of 6 specific practices:"tiger's pace skill, heavy beating skill, suo di skill, xuan nang skill, zhi xue skill, nie pan skill", especially the "zhi xue skill"--36-type tiangang-zhi—has the greatest power. It can not only conduct massage and cure illnesses but also attack the enemy as a kind of Wushu skill. Same as Shao Lin School and Wu Dang School, the Emei School also emphasizes the concept of "For both sports and practical purpose; Conduct internal and external cultivation", that means the combination between health preservation means and attacking and defending skills and between internal exercise and external exercise. However the styles of those three schools are different and have various advantages that can be distinguished in three aspects, that are "internal and external", "temper force and gentle force", and "long and short". Firstly, as for "internal and external", Shao Lin School 's advantage is its attacking skills, known as external boxing. Wu Dang School's advantage is its breathing skills, known as internal boxing. And Emei School emphasizes both internal exercise and external exercise. Secondly, as for "temper force and gentle force", Shao Lin School's advantage is its temper force, Wu Dang School's advantage is its gentle force, and Emei School's concept is "extreme temper force leads to fragile, extreme gentle force leads to idle and advocates "both temper force and gentle force, co-existences of temper force and gentle force". Thirdly, as for "long and short", Shao Lin School frequently use long boxing, Wu Dang School frequently use short boxing, and Emei School advocates using both long boxing and short boxing. The Emei School Wushu is good at using the forces of five peaks and six elbows, five peaks are: head, shoulder, elbow, buttocks and knee; six elbows are: upper elbow, lower elbow, left elbow, right elbow, return elbow, and reverse elbow. The techniques of attack and defense emphasize flexibility of hands and feet. "move, shift, dodge, jolt, float, sink, breathe in, breathe out" are main arts of attack and defense of Emei School . And Emei School Wushu also especially emphasizes "Wushu moral character", "sense of justice and virtue" and "nourishing one's vital spirit", it requires that Wushu player must have the virtue of honesty and goodness, and it emphasizes that Wushu player must have spirit of humanitarianism and noble spirit.

Edit by: Dorothy
Origin of Emei Wushu
[edit this]
Emei Wushu was named after Mountain Emei, approximately it originated at the end of the Warring States Period and had been prevailing during those 500 years from Tang Dynasty to Song Dynasty. In the Warring States Period, Si Tu Xuan Kong lived and cultivated crops in mountain, he mimicked the motions of apes and monkeys and created the "Tong Bei Boxing" with flexible attacking and defending skills based upon the hunting skills, and he was known by people as the Bai Yuan Founder. In 6th century, the monk Yun Tan from the Song Mountain in Henan introduced the boxing skills and attacking skills of northern areas to Mountain Emei, exploring together with monks and Taoists in the mountain and combining the characteristics of local Wushu, they learned from other's strong points to offset weakness and gradually created the slow and firm "Emei Wushu" with the association of activity and inertia and the internal and external cultivation. In 9th century, Wushu monk Bai Yun created the "Emei 12-post Skills", "Zhou Tian Ban Yun Method", "Qing Jing Gui Yi Method", De Yuan created the "Bai Mei Boxing" and wrote the book "Emei Boxing", establishing the theory of Emei Wushu based upon practices. In 17th century, Wushu monks Tai Kong, Shen Deng etc. created the "Zi Wu School" boxing together with Qing Yun Taoist, Wush monk Yue Lang created the "Liu Cheng Boxing" and introduced the "Shao Lin Arhat Boxing", Wushu monk Hai Deng of modern times traveled around and absorbed advantages of various schools and created the "Two-finger kung fu" and compiled the "Emei Sword" and wrote the "Qigong Essentials" etc. And then after several years' development the Emei Wushu has gradually become one of the three main Chinese Wushu schools.

Edit by: Dorothy
Contents of Emei Wushu
[edit this]
Emei Wushu consists of eight major school and five major factions that are commonly known as "eight leaves support five flowers", "eight leaves" are eight kinds of boxing of Emei Wushu:"Seng, Yue, Zhao, Du, Hong, Hua, Zi, Hui". "Five flowers" are five factions of Emei Wushu, they are, Huangling faction, Dianyi faction, Qingcheng faction, Tiefo faction, Qingniu faction that are normally distinguished according to their circulating areas.

Edit by: Dorothy
Buddhism in Mountain Emei
[edit this]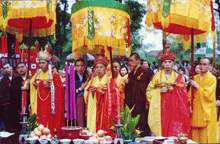 Photo By: Dorothy
[Change Image]
Buddhism was introduced into China from India around 1 A.D. and into Mountain Emei during the Wei & the Jin Dynasty. From that point on, many Taoist temples were transformed into Buddhist temples. Following the Tang and the Song Dynasty, Buddhism became quite popular on Mountain Emei, and more Buddhist temples were built. During the Ming and the Qing Dynasty, Buddhism reached its high peak of temples with 170. Today, there are 260 monks on Mountain Emei, and 20,000 Buddhists in Emei City.
Under the state policy of "Freedom of Religious Belief", monks of Mountain Emei live their lives as they wish. They read Buddhist doctrines daily, participate in some Buddhist activities and hold Buddhist rites. The Emei Buddhist organization keeps a relationship with overseas Buddhists. Recently, many overseas people have come to Mountain Emei for worship, research, and the exchange of Buddhist culture. Mountain Emei has more than 1,000,000 such pilgrims every year. The good relationship between the Mountain Emei temples and the overseas countries enhances the communication and further develops the Buddhist culture.

Edit by: Dorothy