The Myth of Zhuhai
[edit this]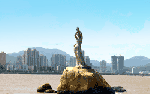 Photo By: Tom
[Change Image]
Zhuhai, the most romantic city in China. The legend began a long time ago when the Dragon Girl (daughter of the Mythological Dragon King) was so fascinated by Zhuhai's beautiful scenery that she secretly descended upon the mortal world disguised as a fisher girl. She fell in love with a young local fisherman named Hai Peng. Believing the gossips of the others, Hai Peng insisted that the Dragon Girl take off the bracelet, which if removed would cause her death. To show her love for Hai Peng, the Diagon Girl took off her bracelet & died in the arms of her lover. The young man felt great regret and deep sorrow over her death. Moved by the deep love shared by the couple, the Jiuzhou Elder Man helped the fisherman locate a special herb called "teviving Gras" which only grows with the use of one's blood. With no hesitation, Hai Peng used his own blood to grow the herb. The Dragon Girl came back to life and became a true fisher girl. On the day of their wedding, she found a huge pearl and gave it to the respected Elder Man. Based on this myth, a sculpture named "Zhuhai Fisher Girl" was erected on a rock in the Xianglu Bay. Since then it has become the symbol of Zhuhai, Alongside the sculpture runs a 26-kilometer "Lover's Road" which winds form Zhuhai-Macau border in the west to Guangzhoum, Zhuhai Expressway in the east. Seeing the beach, rocks, swaying trees and blooming flowers, Lover's Road fills this seaside city with endless love.

Edit by: Tom
Chen Fang
[edit this]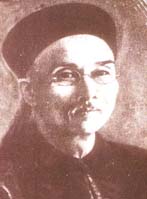 Photo By: Tom
[Change Image]
Zhuhai is a cradle for people of excellence. Born in Meixi Village, Qianshan Town, Zhuhai, Chen Fang led quite a legendary life. He traveled far across the sea to Honolulu, Hawaii at a young age and later became the first millionaire there.
Chen Fang was known in business circles as the "Business Giant". He married a local princess of mixed blood named Julia, who gave birth to 12 daughters & 4 sons. Due to the fact that his children had mixed blood from China, Great Britain & Hawaii, Chen Fang built a luxurious villa on the island combining the art styles from these three countries. From the end of the 19th to the beginning of the 20th century, this villa has been a must for tourists visiting Honolulu. In 1881, Chen Fang was appointed by the Qing Government as China's first Consul General to Hawaii,ln 1890, Chen Fang sold off his property and returned to his motherland where he built another villa similar to the one in Honolulu.

Edit by: Tom